Personas & Journey Map
What is it?
Personas are composite of characteristics and needs of real people, used as reference when planning, designing and testing products. A journey map follows a persona through a process of interacting with a service in order to understand the ups and downs of their experience. Both are used in order to design better products and services.
My role
I initiated the research and was the executive sponsor. Our XD team, along with support from a cross-org group, led research to define personas and create the journey map. I orchestrated the rollout to the organization at large.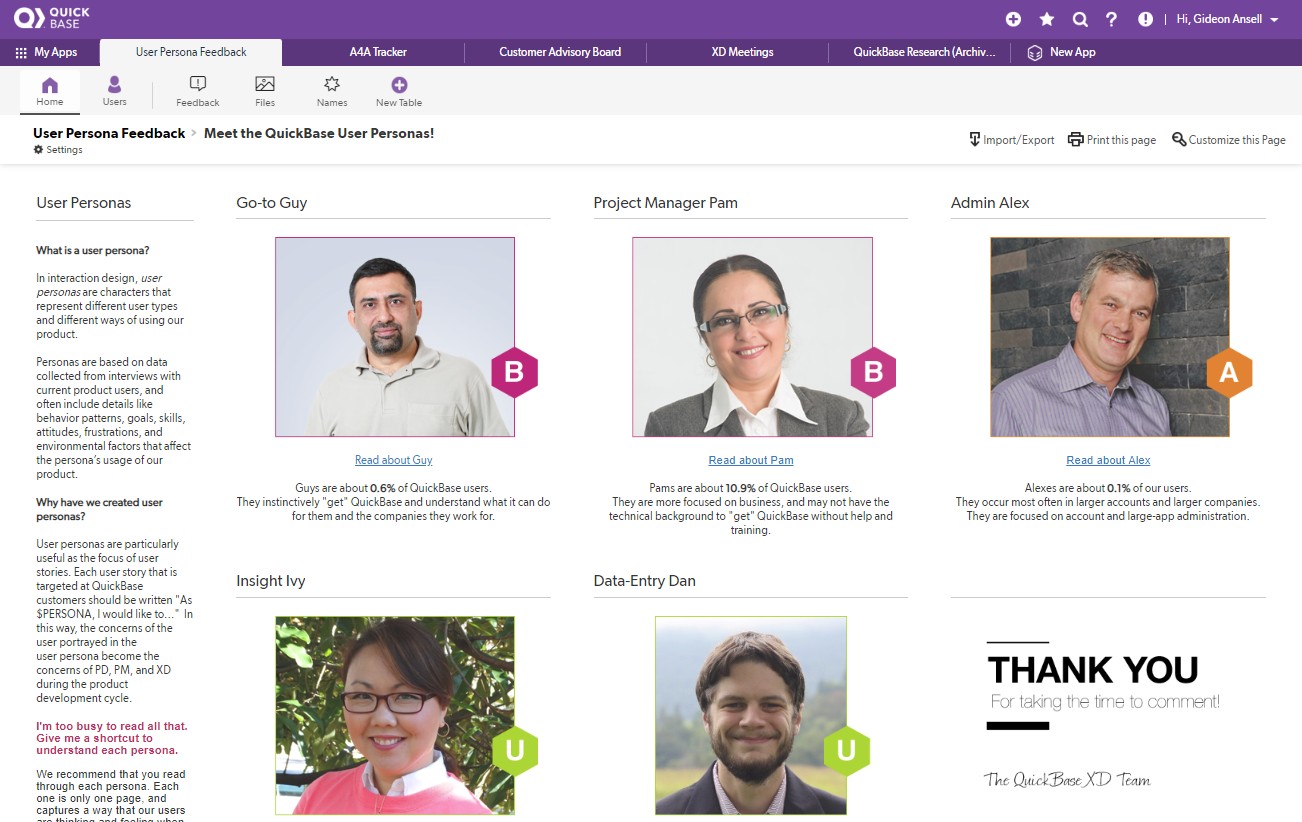 Personas: Prior to this research everyone at Quick Base spoke of "builder" or "users". They were undifferentiated and didn't represent the wide spectrum of different needs, usage, and level of knowledge our customers have. Without a finer grain understanding of those users we lacked needed insight when designing different areas of the product.
Customer Journey Map: A customer's experience is driven through interactions and touch points created by many internal groups: Marketing, Sales, Product, Customer Success, and Care. But we lacked clarity about what the holistic journey was and how those different touch points affected the customer and related to the prior or next interaction with Quick Base.
Contextual Inquiry and Interviews
The XD team conducted contextual inquiries and interviewed over 40 people in a wide range of industries, size, and usage of Quick Base. They created interview notes from this research calling out important differences and characteristics of each participant.
Other customers were asked to complete a visual diary describing themselves, their business, their team, and their use of Quick Base.
After all the research was done the XD team held a series of workshops to debrief, collate the findings, synthesize the research , and create personas based on the salient differences we found.
The personas below represent the key Quick Base personas, divided into three high-level categories: builder, end-user, and administrator.
This was created in a series of workshops I led. After identifying the need for a comprehensive view of our customers' experience I brought together domains experts from all departments that in some way touched the customer in the journey from discovery of Quick Base to a completed first app. This included: Marketing, Sales, Customer Success, Care, and Product.
The workshop teams identified discrete steps along the journey and for each step identified: the customer's goals; the customer's expectation; our company's touch points, the process, problems customer encounter, the customer's emotional state.
To follow-up, we tasked cross-departmental teams to attack the problem areas.
Personas: All teams across quick use these personas when discussing issues, brainstorming, creating stories, or working on solutions.
Customer Journey Map: each organization team was able to understand their role in improving the cusimer experience. we created a "First Use" cross-functional team and addressed each step along the way in a holistic manner.